|
|
|
Boris Ivanovich Tishchenko (Russian Борис Иванович Тищенко; March 23, 1939 – December 9, 2010) was a Russian and Soviet composer and pianist.
He often considered the direct heir to the legacy of Shostakovich, Tishchenko was born in Leningrad. He studied at the Leningrad Musical College from 1954 to 1957. There he learnt composition under Galina Ustvolskaya and piano under Mikhelis. Then from 1957 to 1963 he studied composition with Vadim Salmanov, Victor Voloshinov and Orest Evlakhov, and piano with L. Logovinski at the Leningrad Conservatory. He took a postgraduate course with the composer Dmitri Shostakovich from 1962 to 1965.
He taught at the Leningrad Conservatory from 1965, and became a professor there in 1986.
Tishchenko was an outstanding representative of the generation which appeared during the 1960s and which invigorated Russian musical life. His industriousness has rewarded him with a leading place in Russian music. As distinct from many of his colleagues, Tishchenko has remained in Russia and with a striking determination remains loyal to the principles which he once adopted, regardless of changes in political regimes and artistic trends.
With a list of some 130 works to his credit, Tishchenko is a prolific composer who has contributed to all the major genres. Folk and ethnic music have both played their part in his thinking, together with composers as diverse as Monteverdi and Mahler, in an idiom whose undogmatic approach to tonal thinking won him the approval of Shostakovich early in his career. This is particularly evident in the Third of his eleven symphonic works (1966), which the older composer singled out for the "richness of its emotions, its clarity of thought and its structural logic", and the First Cello Concerto, written for Rostropovich in 1963 and re-orchestrated by Shostakovich for more conventional forces in 1969. Such an empathy reached its apogee in the Fourth and Fifth Symphonies, composed before and after Shostakovich's death in 1975, where an avowedly public symphonism is pursued in impressively large-scale terms.
|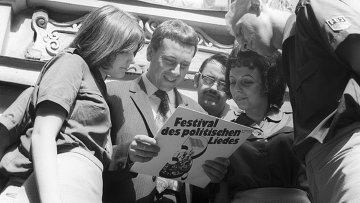 |
Tishchenko tried to use some experimental and modernist ideas like twelve-tone or aleatoric techniques, but was much more attached to the native traditions of his homeland. He demonstrated a kind of originality, scoring his Second Cello Concerto for 48 cellos, 12 double-basses and percussion (1969). Ten years later, however, he re-orchestrated it for a more practical combination.
He was honored by Shostakovich's orchestration of his First Cello Concerto, and repaid his master by the orchestration, editing and transcription of a few scores by Shostakovich. His Requiem, to the forbidden poem by Anna Akhmatova, written in the period of political stagnation in 1966, was a courageous cultural gesture.
Tishchenko actively assisted in the secret delivery of the manuscript of Shostakovich's memoirs to the West. Later, however, he raised his voice in dispute against the authenticity of Testimony published by Solomon Volkov in 1979. In March 2006 he was announced as the first laureate of the 'Epokha Shostakovicha' prize instituted for the centennial of Shostakovich's birth. He died in Saint Petersburg.
|
Selected Works
The Twelve, ballet in four acts (1963)
Fly-Bee, ballet in one act (1968)
The Stolen Sun, opera in one act (1968) (libretto by Mikhail Bialik, Z. Korogodsky and B. Tishchenko, after the tale by Korney Chukovsky)
A Cockroach, musical comedy in one act (1968) (libretto by Z. Korogodsky, after the tale byKorney Chukovsky)
Yaroslavna (The Eclipse), ballet in three acts (1974)

Symphonies

*Symphony No. 1 (1961)

*Symphony No. 2 (1964)

*Symphony No. 3 (1966)

*Symphony No. 4, with narrator (1974)

*Symphony No. 5 (1976)

*Symphony No. 6, for soprano, contralto and symphony orchestra (1988)

*Symphony No. 7 (1994)

Praeludium e Fugue, for string orchestra (1957)
A French Symphony (1958, rev. 1993)
Danaide, symphonic poem (1963)
Octaves (1963)
Palekh (1965)
Sinfonia Robusta (1970)
The Siege Chronicles, a symphony for full orchestra (1984)
Concerto Alla Marcia, for sixteen soloists (1989)
A Pushkin Symphony (1998)
Beatrice (Choreo-symphonic cycle, 1998-2005)

* Dante Symphony No. 1 ("Among the living") (1998)

* Dante Symphony No. 2 ("Abandon Hope, All Ye Who Enter Here") (2000)

* Dante Symphony No. 3 ("Inferno") (2001)

* Dante Symphony No. 4 ("Purgatory") (2003)

* Dante Symphony No. 5 ("Paradise") (2005)

Piano Concerto (1962)

Violin Concerto No. 1 (1958, rev. 1964)

Violin Concerto No. 2 (1981)

Cello Concerto No. 1, for solo cello, 17 wind instruments, percussion, and harmonium (1963) (Also orchestrated by Dmitri Shostakovich in 1969)

Cello Concerto No. 2, for solo cello, 48 cellos, 12 double-basses, and percussion (1969, rearranged for orchestra in 1979)

Concerto for Flute, Piano and String Orchestra (1972)

Harp Concerto (1977)

Piano Sonatas

*Piano Sonata No. 1 (1957, rev. 1995)

*Piano Sonata No. 2 (1960)

*Piano Sonata No. 3 (1965)

*Piano Sonata No. 4 (1972)

*Piano Sonata No. 5 (1973)

*Piano Sonata No. 6 (1976)

*Piano Sonata No. 7, with bells (1982)

*Piano Sonata No. 8 (1986)

*Piano Sonata No. 9 (1992)

*Piano Sonata No. 10 (1997)

Suite for Piano No. 1 (1957)

A Muleteer, fable for piano (1958)

Three Riddles for Piano (1960)

Eight Portraits for Piano Duet (1996)

Sonata for Solo Violin No. 1 (1957)

Sonata for Solo Violin No. 2 (1975)

Sonata for Solo Cello No. 1 (1960)

Sonata for Solo Cello No. 2 (1979)

Twelve Inventions for Organ (1964)

Capriccio for Violin and Piano (1965)

Two Pieces for Percussion (1970)

Twelve Portraits for Organ (1992)

Fantasy for Violin and Piano (1994)

Sonata for Recorder (five instruments) and Organ (1999)

Four Pieces for Tuba (1985)

Praeludium e Fugue, for string quartet (1957)

String Quartets

*String Quartet No. 1 (1957)

*String Quartet No. 2 (1959)

*String Quartet No. 3 (1970)

*String Quartet No. 4 (1980)

*String Quartet No. 5 (1984)

Northern Exercises, suite for ensemble (1968)

Piano Quintet (1985)

The Dog's Heart, novels for chamber ensemble (after Mikhail Bulgakov, 1988)

Concerto for Clarinet and Piano Trio (1990)

Lenin is Alive, cantata after Vladimir Mayakovsky for mixed chorus with orchestra (1959)
Suzdal, suite for soprano, tenor and chamber-orchestra (1964)
Requiem, after Anna Akhmatova for soprano, tenor and symphony orchestra (1966)
Hard Frost, aria for mezzo-soprano and orchestra (1974)
Beatrice, choral-symphonic cycle after Dante's "Divine Comedy"(1997)
A White Stork, vocal cycle for medium voice and piano (1958)
Yuaffu, four choruses for chorus a cappella (1959)
Energy, fugue for chorus a cappella (1959)
The Wedding Song for female chorus (1959)
Sad Songs, vocal cycle for soprano and piano (1962)

Three Songs to Verses by Marina Tsvetaeva for medium voice and piano (1970)

Five Songs to Verses by O. Driz for medium voice and piano (1974)

The Will for soprano, harp and organ (1986)
To My Brother for soprano, flute and harp (1986)
The Garden of Music, cantata for soprano, mezzo-soprano, baritone and piano trio (1987)
The Chelom Wise Men, a vocal-instrumental quartet for violin, soprano, bass and piano (1991)
The Devildraft, cycle for medium voice and piano (1995)
|
|
|
|